Succulent Home Decor - Care For The Garden You Want Indoors
Succulent Home Decor - Care For The Garden You Want Indoors
Are you searching for the ideal plant for your home, but you do not have a green thumb? No problem! There's a plant out there that can survive your garden challenges. Succulents can outlast even the worst gardeners and are a beautiful addition to any home or office. Succulents are a part of a family of plants that have thick leaves that trap and hold water - that makes them easy to care for. There are a wide variety of succulent planter options to fit any home decor style ranging from beautiful to just a little bit weird. Because succulents only need a small space, there are many planters that fit your personal style and are simple to create. You may not even realize how small of a space succulents can thrive in. That is why we compiled a list for you! Here are some succulent plant decor options to consider for your home:
1) Levitating Plant Pot and Base
You read that correctly. This plant levitates! The Blu Devil Levitating Plant Pot suspends in the air with the help of magnetic levitation (MAGLEV) technology. This gravity-defying plant is simple to care for and an excellent conversation piece. The planter has a realistic wood finish and is very durable, and can accommodate several plant varieties including succulents. The pot also rotates naturally so it can help your plants to get an even amount of sunlight throughout the day. You can complement your levitating plant with this Do-It-Yourself Magnetic Succulent Jar tutorial. Show off your succulent garden on your fridge or metal bulletin board. This guide can help you on you DIY journey to make the perfect succulent jar magnets. Use artificial plants or the real thing. They make a colorful addition to your kitchen!
2) Unicorn Planter for Succulents
Unicorns are all the rage. Although this magical creature contains the entire rainbow, this container only holds small succulents. The planter features a colorful, pearl-painted unicorn planter that will fit neatly on your windowsill, kitchen counter or in your home office. Interested in designing your own succulent garden? This handy Do-It-Yourself Teacup Garden  guide will help you find all of the ingredients you need for your luscious, green succulents to thrive.
3) Hanging Air Plant Terrarium Planter
Hanging terrariums offer an attractive and modern design for any home or office space. These two globes hold terrariums to bring the feel of the outdoors inside your office. The easy to access planter opening allows you to safely place your favorite succulents. If you are feeling crafty, there is more info on the DIY Hanging Terrarium option. You can even add ribbon for a touch of holiday or event-themed flair. Make sure to place these near sunlight!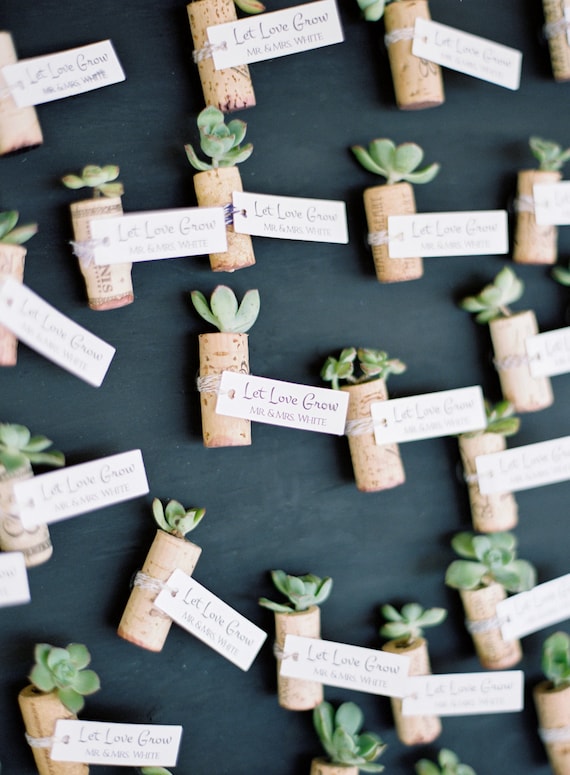 Are you a lover of wine? Wine corks make an excellent planter for succulents. Incorporate these creative succulent wine cork planters into your wine cellar or kitchen design. These also make great table placeholders for guests. Do you let your wine corks collect in a jar? Why not put them to good use with your own creation. This tutorial for DIY Wink Cork Planters is your guide to creating your own cork planters as magnets or even a small garden along your kitchen window.
5) Driftwood Concrete Succulent Planter
This planter appears to be real wood, but it is actually a durable concrete that is weather-resistant meaning it will work for indoor and outdoor use. Whether you decide to place it on your patio table, front steps or in your living room, the driftwood concrete succulent planter is a lovely planter option for your succulent garden. Looking for a DIY option for your succulent garden? Just head on outside - you will figure something out.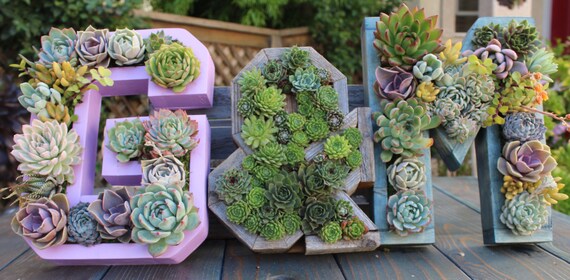 If you want to get fancy with your succulent home decor, this monogrammed planter may be what you are looking for.  You can set these pieces on a shelf, fireplace mantle or hang on the wall. Feature your last name, your family's monograms or even a favorite word. Here is another easy way to get fancy, create a DIY disco ball planter that will help your succulents shine.
7) Get Quirky with Succulent Planters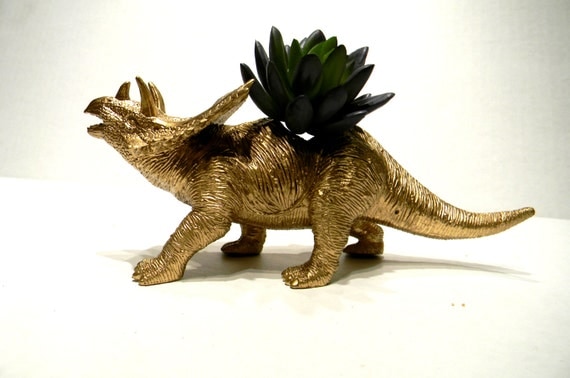 Succulent planters come in a lot of varieties and some of them get a bit quirky. Take these custom dinosaur planters which seem to sell pretty quickly. How about something a little more bizarre with this handmade human skull replica planter that fits up to six succulent plants. Still looking for some unique do-it-yourself succulent planters to create? This site offers many options and guides to help you create your succulent plant home decor.
There you have it! More than a dozen succulent planters that you can purchase or create to liven up your indoor garden. Once you add these great design additions to your home, you just need to water them regularly and enjoy the greenery!