The Best & Most Unique Anniversary Gifts for Her
The Best & Most Unique Anniversary Gifts for Her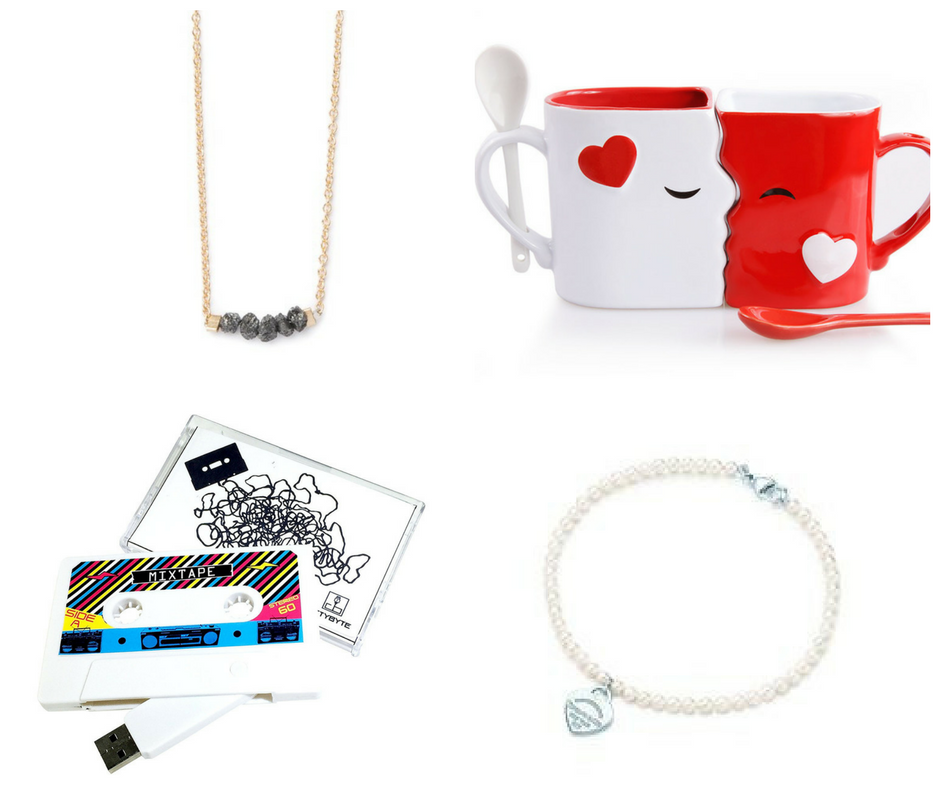 So your anniversary is coming up and you just realized that you don't have a gift for her. Don't worry! You certainly aren't alone and there is nothing for you to worry about because we have you covered! If you want to give the best gift and make a lasting impression on her, you need to step outside the box and find some of the best and most unique gifts that you can give her. If you're looking for help or need some ideas on what to buy, below you're going to find some of the best and most unique options. By going with one of the 14 options outlined below, you will not be disappointed and you will make her day!
If you want to go the route of jewelry for your anniversary, this particular piece from Tiffany is one of the best bracelets you are going to find and it will make a perfect anniversary gift. It features a sterling silver mini heart tag on a bracelet of freshwater cultured pearls. Additionally, you'll find that this bracelet is sure to wow her and leave her speechless thanks to its inspiration from the iconic key ring that was first introduced in 1969. As a whole, this is a classic reinvented by Tiffany and you cannot go wrong with this gift.
These are more than just normal mug sets, they visibly demonstrate the love you feel for each other and your special connection at all times in your home. This set of two mugs comes together to form two faces kissing each other and there will be a mug for you and a mug for her! You are also going to get these cute matching china teaspoons to keep with your mug at all times!
Black Rough Diamond Tiny Bridge Necklace
In case you're looking to find something unique for her and you want to go a little out of the box, this particular necklace is an excellent choice for you. The design of this necklace is quite breathtaking and it features sustainably sourced diamond cutting left unpolished for an organic look. These are handmade in San Francisco and the chain on the necklace is 14 karat gold as well.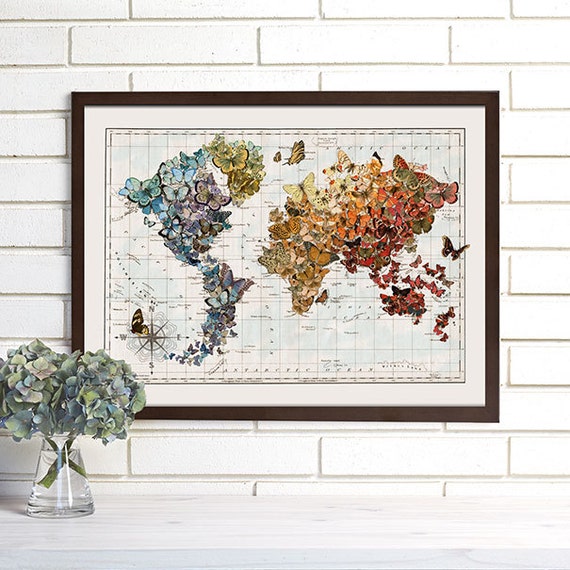 Sometimes the most unique gift is one of the best gifts you are going to find and this is a perfect way to add some beauty and color to any room in the house and she will surely love it as well! This is an 18" x 24" print and it is eco-friendly because the maps are printed on heavyweight 100% recycled stock with water-based inks. Additionally, each map is signed and numbered to add even more uniqueness.
Sterling Silver And White Cultured Pearl Pendant Necklace
This is really neat and unique looking necklace and it can be a great gift for anyone that is looking for a beautiful and modern design. This particular necklace uses the design to help reveal extravagant silver arabesques and you're also going to find that the cultured pearl gives it a design of enchantment for whoever will wear it.
Retro Mixtape Design Cassette Tape USB Flash Drive
It wasn't very long ago when you could get by with giving her a mixtape that she would love to listen to her and you could introduce her to your favorite music. However, that practice doesn't really exist anymore so this is the next best thing. It is a flash drive designed to look like a cassette and it can hold up to 2,000 songs or just about anything else you want to put on it.
Wood Bangle Bracelet Hand Carved In India
If you are the type of person that wants to find one of the more unique gifts to give her, this is a perfect option because these wood bangle bracelets are hand carved and hand painted in India and they take on the design of classic Indian jewelry. As mentioned, this unique gift is perfect and will be a great accessory for anybody looking for that classic ethnic appeal.
The Obsessive Chef Bamboo Cutting Board
Maybe the person you are buying is obsessive about cooking or measuring and weighting or maybe she mentioned something about wanting to learn how to cook. If that is the case, this is going to be one of the best options for you because it is a cutting board that can be used like normal but it also features plenty of guidelines for different grid sizes and angles to make sure that your cuts are the way they need to be at all times.
Custom-Made, Personalized Paper Dolls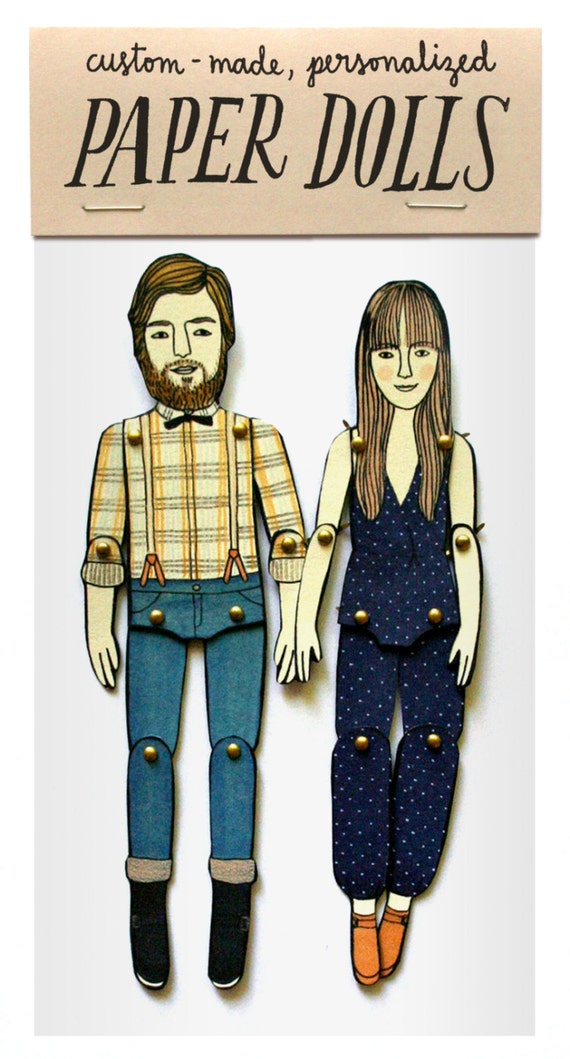 If you want to personalize your gift and find something that would be really unique, these custom-made and personalized paper dolls are one of the coolest gives you can find. Each order is made to order and uses paper, ink and colored pencil in order to do it. This can be a great way for both of you to get a paper doll of yourself or you could just do one of her if you prefer.
Semi-Precious Stone and Diamond Halo Pendant Necklace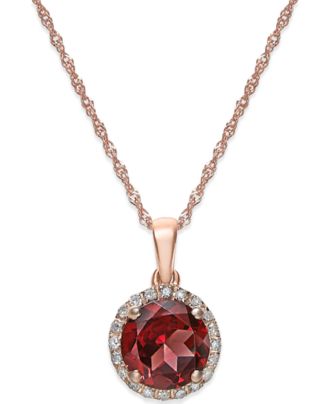 If you want to spend a little bit more money on a gift and you want to stick with jewelry, this is one of the better options that you will find because it is a beautiful pendant necklace that features stunning semi-precious stones surrounded by diamond hanging from a gorgeous rope chain that is crafted with your choice of 14k white, yellow or rose gold.
Williams-Sonoma Bride & Groom Cookbook
As you might have guessed based on the name of the book alone, this is the perfect gift for anybody that might be celebrating their very first anniversary together and wants to try to cook more meals at home. This beautiful guide provides you and your spouse with everything you need to know about cooking for two. It provides information about how to stock your kitchen, cook a quick weeknight dinner and even prepare for your first holiday feast!
In all situations, you are going to find that a gift involving food or candy is a great way to go because who doesn't like to get food? If your significant other loves Ferrero Rocher, then this is the best gift for them. Arranged into a special tree, you are going to find that this golden looking tree comes with more than 55 (yes, fifty-five) Ferrero Rocher chocolates to help make sure that she has everything she could possibly need to celebrate the special day.
Personalized Ceramic Initials With Heart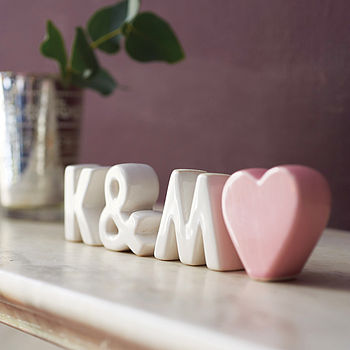 This is another great present but it is one that you might want to go with if you know her initial won't be changing anytime soon (as in like, you're going to marry her and she takes your last name). These initials are personalized and made out of ceramic and come with a little heart that can be displayed next to them on a shelf or wherever you might keep them. You're going to love the look of these on the shelf and she is going to love the personalized thought you put into this gift.
If you want to go with some type of clothing for her and you know she loves pyjamas, then this could be a great option for you. These pyjamas are made with comfort & luxury in mind. Additionally, these are available in different colors so you can find the best one to fit what you know she likes.
Conclusion
Now that you have read through all 14 of our best recommendations when it comes to anniversary gifts, you have no reason or excuse not to get her an amazing gift that she is going to love to have coming from you! Whether you go with the safe and traditional choice of jewellery or you want to mix things up a bit and go with a cutting board or a picture, you will not go wrong if you pick one of these items as your anniversary gift to your significant other.